I don't know about you, but there are only so many pickles we can handle around here! That put together with my kids' love for finding unique entries for the local state fair— I am proud to present a non-pickle way to preserve cucumbers: Cucumber Jelly!
Now, this isn't your peanut butter and jelly kind of jelly. It's sweet and tangy with a nice, fresh cucumber taste.
This site contains affiliate links. If you make a purchase using one of these links, I may earn a commission. Please see my disclosure page for more information about cookies collected and our privacy policy.
If you ask my kids, they will tell you it tastes like very sweet pickle jelly! But I taste more cucumber with the tang of vinegar being an afterthought. This cucumber jelly is not savory, but pairs well with savory dishes. And I'll let you know how it ranks in the fair this coming year!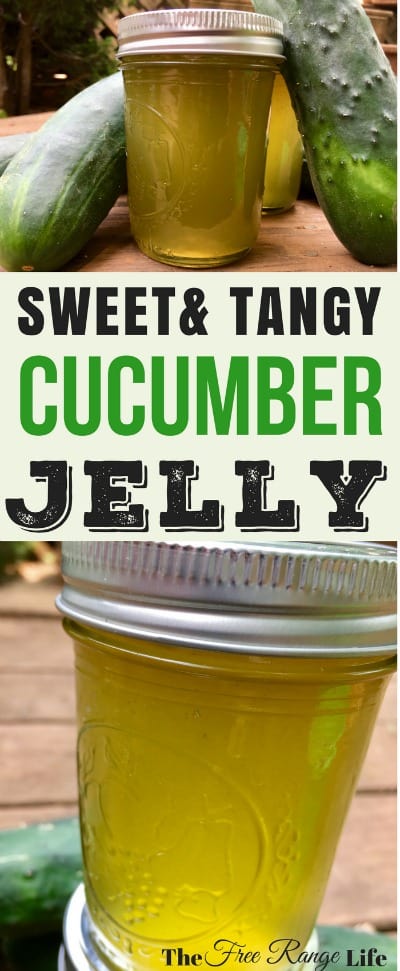 How to Make Cucumber Jelly
You can use any cucumbers you have on hand to make this jelly—making it perfect for all those slicing cucumbers coming out of your garden right now! The recipe calls for 2 1/2 cups of cucumber juice. This would be about 4 large slicing cucumbers.
To extract the juice, cut off the flower end of the cucumber and either chop up in a blender or food processor until it becomes puree or put it through a juicer.
Either way you will need to strain it well before using it to make jelly. I strained mine 3 times total. Once through a fine mesh sieve to get the large pulp out, then twice through cheese cloth.
Want to preserve MORE food this year? Get my Food Preservation Planner to help you plan your family's food needs and save time by helping you preserve more efficiently!
You will need:
2 1/2 of cucumber juice- well strained
7 cups of sugar
1 cup vinegar
2 pouches pectin (I used liquid pectin)
Optional: Seeds scraped from one vanilla bean.
Steps to Making Cucumber Jelly:
Mix the cucumber juice, sugar, and vinegar (and optional vanilla bean) in a pot and slowly bring to a boil. Stirring occasionally.
Gently boil for 2 minutes and then remove it from the heat.
Stir in the pectin and return to a boil.
Boil and stir for 1-2 minutes more, then remove it from the heat.
Continue to stir, skimming the surface to remove any foam.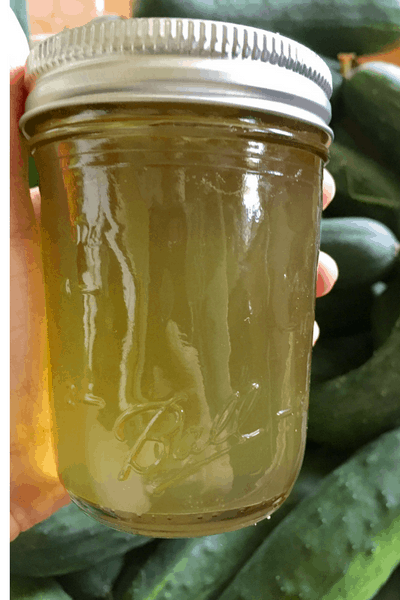 Pour jelly into half-pint jars, leaving 1/4 inch head space. Wipe rims with a clean cloth and place on 2 part lids.
At this point you can either cool and store in the fridge or place in a boiling water bath canner for 10 minutes. Check for a good seal before storing.
Are you in the mood for another different and unique jelly? Try my forsythia jelly or redbud jelly!

That's it- a simple, sweet cucumber jelly! This makes about 7-8 half-pint jars. Give it a try- let me know what you think!
Get more ideas to preserve cucumbers on 10 Ways to Preserve Cucumbers That Every Home Gardener Should Know!