THE COMPLETE BUSY HOMESTEADER'S COLLECTION
This Complete Collection includes access to the entire Free Range Life line of products- including the bonus items!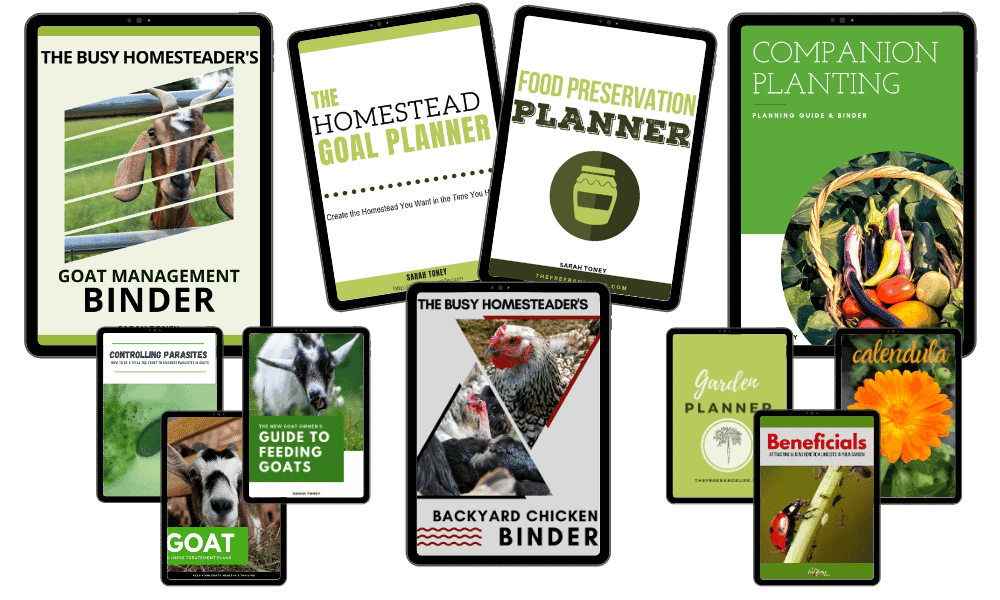 The Busy Homesteader's Goat Management Binder is the #1 goat management system with over 2000 copies sold. Plus with the bonuses, you'll also learn how to feed your goats properly, how to do your own fecal egg counts, and get treatment plans for common goat illnesses. (Learn more about what you'll get).
The Busy Homesteader's Backyard Chicken Binder has checklists, to-do lists, and record sheets to help make raising chickens easier (Learn more)
The Companion Planting Guide and Binder helps you plan your perfect organic garden. You'll learn the ins and outs of companion planting plus get 3 bonuses: The Yearly Garden Planner, Attracting Beneficials to Your Garden, and the Guide to Using Calendula- a perfect companion plant! (Learn more about what you'll get).
The Food Preservation Planner will help you plan your family's food needs and preserve more food each year. This tool gives you all the information you need so you can spend more time preserving and less time looking up HOW. (Learn more)
The Homestead Goal Planner is designed to take the guess work out of growing your homestead. This tool will remove the overwhelm and allow you to plan and tackle all of your important homesteading goals- so you actually achieve them! (Learn more)
This entire collection is worth more than $240!
Click the button below to get all 11 books and guides for only $60