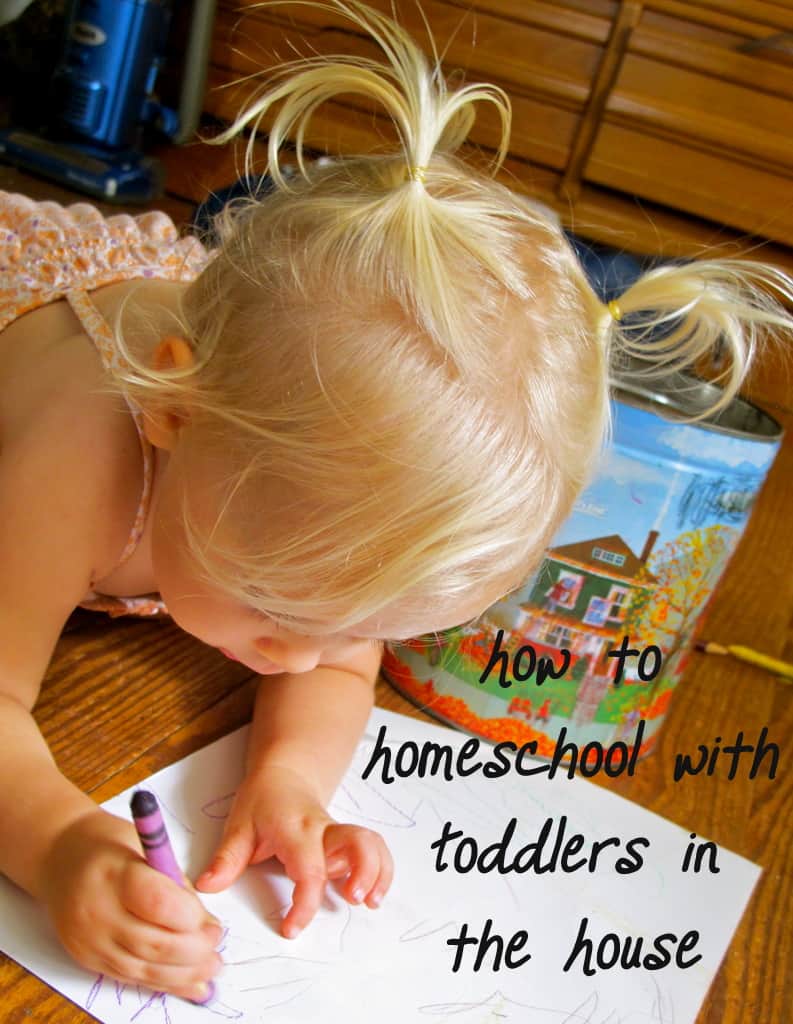 I think this has to be one of the top ten questions asked in the homeschooling world. It comes it many forms, from a simple question to an exasperated what am I going to do?! So what do you do? How do you teach your older, school aged children when there are little ones around?
This site contains affiliate links. If you make a purchase using one of these links, I may earn a commission. Please click here for more information about cookies collected and our privacy policy.
When my oldest son started kindergarten, I also had a 3 yr old and a 1 yr old in the house. That year wasn't too hard since we are pretty lax when it comes to kindergarten around here. By the time he turned 6, I had 3 little ones and I have had a baby/toddler/preschooler in the house every year since. Even today, as we are about to embark on another school year, this time with 4 school-aged, I still have one little one, who I am sure will make her presence known on most days.
So from some one who has been there, here are my tips on how to keep the school days running smoothly and the little ones happy.
How to Homeschool Big Kids with Toddlers Around

Work Toward Independence
This goes for both big guys and little guys. When book work has to be done, you need your older kids to be able to do their work without hand holding. Encourage them to do their best, ask questions if they need help and come look it over with you when they are done. This is an important life skill to learn, so staying focused on the task at hand, even if mom isn't right there next to you is a goal all families should work toward.
Sometimes you will need to sit and explain a topic or give instructions before they work on their own. This is when it will greatly benefit you to get your young ones working independently as well. They should be able to play quietly in the room without interrupting for 5-10 minutes or longer depending on their age. Even babies should be able to entertain themselves for short periods.
Give them Something Special
It's hard for kids of any age to feel ignored, so when littles see you spending lots of time teaching their older siblings they feel a little left out.
Take the time to give them their own special work or box of toys that is just for school time. Set up a shelf with some Montessori inspired activities, fill a box with books you know they will love to look at or get the playdough out for them to play with at the table with you. They will feel included and they will be busy. (Here's my favorite playdough recipe)
Build Sibling Relationships
If you have more than one older child to teach, have them take turns watching a younger sibling while you work with the other. I've had a 5 year old help his 3 year old brother play a computer game by moving the mouse for him. I have an older child read to a non-reader. I have had them simply play in another room- the younger one gets a friend and the older one gets a break from school!
And if I am really in need of some help I have been known to stick two young ones together. Yes they make a mess and sometimes get a little loud, but that's okay. This has so many more benefits than just allowing you to get lessons done, your kids get a chance to bond and build their relationship even more and they will get even closer because of it.
Are you looking for crafts, activities, and educational experiences for your kids? Check out Everyday Chaos and Calm!
Work Together
To me, this is the most important thing. We learn as a family and just because some one isn't "school" aged or even old enough to really understand what is going on in a particular lesson, we still all do it together. All of our science and history lessons include the entire family.
A 2 year old might not understand molecules and chemical bonds, but he will have fun using small muscles building with marshmallows and toothpicks while his older brothers build carbon dioxide or water molecules. When we have made lapbooks in the past, I make a simpler version for the younger kids with less writing and more pictures. Almost any lesson can be simplified or made more complicated so that there is something for every age. You would be amazed at what young kids pick up and remember as they learn alongside older children.
Even when working on bookwork, I try to include everyone. If older ones are working in handwriting or copywork, younger ones can be coloring at the table too. Extra math manipulatives can be built with by a younger child while the older one uses them with his lessons.

Be Flexible
When you have young children you have to learn to be flexible. Don't be a slave to your schedule. If it is not working, change it. Just because public school starts bright and early in the morning doesn't mean you have to. Do your history reading during lunch time. Have math lessons during nap time. Take turns reading books aloud at bedtime- you read one, he reads one- to get that reading practice in. Find what works for your family and do that instead. If your infant or toddler is having a bad day and just not being agreeable, take a break for a bit and try again later after some outside time or other fun activity. Take your learning on the road and allow natural exploration to take over instead of book work.
There will be days when you feel like nothing is getting done and your toddler is getting into everything. And there will be days when everything falls into place. Just keep your eye on the ultimate goal- happy kids who love to learn.
Save