Pallets are a great way to recycle on the homestead. Here are some simple and easy pallet projects for the homestead and garden- so easy you don't even have to take the pallets apart!
Pallets are all the rage right now, and they are a very useful, free tool to use around the house, farm and yard. A simple search on Pinterest or Google will give you a plethora of ideas on what to make with this free pallet wood. I have one problem with most of these DIY pallet projects though, you have to take the pallet apart!
This site contains affiliate links. If you make a purchase using one of these links, I may earn a commission. Please see my disclosure page for more information about cookies collected and our privacy policy.
Now, maybe there is an easier way, but after the one time I tried to take a pallet apart I vowed to never do it again! It wasn't easy, it took forever and it didn't look pretty in the end.
So, while we use pallets all over our homestead, we hardly ever take them apart.
So what can you make with a whole pallet? Here are 6 quick and easy pallet projects to get you started.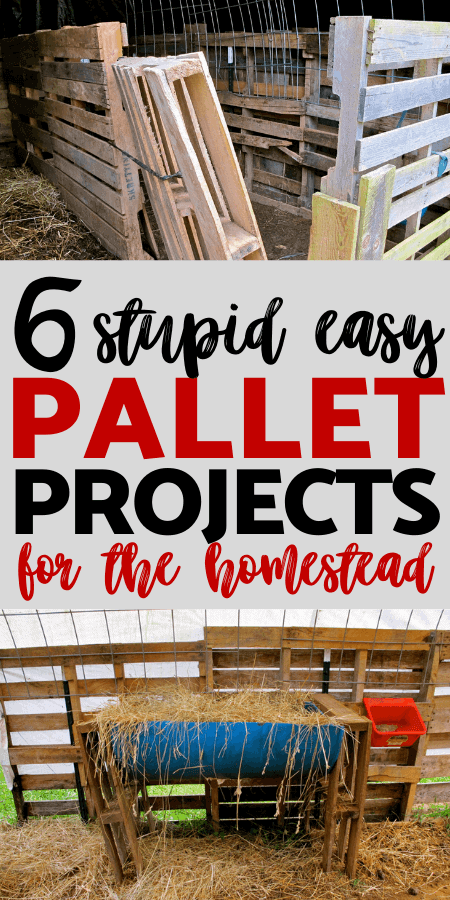 6 Quick Pallet Projects for the Homestead… No disassembling required!
1. Make a Pallet Gate.
Pallets actually make quite good gates. At our old house we had one simply wired to a wood gate post. It served us well, with next to no wear and tear for over 2 years. Last year we were fencing in a new pasture for our alpacas and were in need of a gate.
And if you have ever priced metal farm gates you know just how expensive they are! So instead of spending money we grabbed a wooden pallet and placed it over t-post and voila! a new gate!
This is about the easiest gate you will ever make. Seriously 2 t-posts, a whole pallet, and some wire. That's all you need to make this easy project.

2. The Pallet Compost Bin
Every homestead needs a compost bin and pallets are the perfect fit.
You can make how ever many compartments you need, but I suggest starting with at least 2.
The slats on the pallets are great for aeration while still containing an ever growing pile.
To make a pallet compost bin you simply need at 3 wooden pallets and screws. 3 pallets will make one compartment, 5 will make 2 compartments, 7 will make 3 compartments and so on.
You can leave the front open or place a removable barrier such as a cattle panel for easy access to the compost and for turning.
You can't get any easier than that!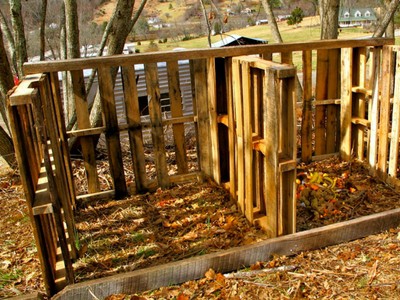 3. Pallet Hay Feeders
Again, if you have ever priced a hay feeder/hay rack, you will know that they are another necessary item that is way overpriced. We have made 2 hay feeders out of pallets that only cost us the price of the screws.
We use pallets as legs and barrels we got free from a local dairy. We used small pallets and a half-barrel for one and 2 large pallets and a whole barrel with a window cut out for another.
And to be honest, since our shelters are also made from pallets, sometimes I'll just stuff hay in the pallets themselves!
Related Reading: 11 Recycled Barrel Projects for the Homestead
You can see examples of this simple pallet project in the picture below.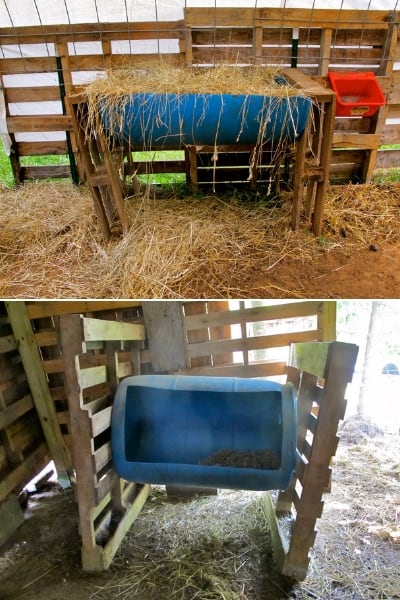 4. Pallet Animal Stalls
If you own animals, sometimes you might need to subdivide your barns and shelters to accommodate sick, young or birthing animals. Pallets are just the thing for this!
They are easy to attach together to form walls and easy to more around to make the stall size you need. Our first year kidding we only had 2 baby goats to close up at night, now we usually have at least 6.
It was easy to move our pallet partitions around to make the stall fit the number of animals we had.
To make pallet stalls just screw the pallets together in at least 3 places down the length. Use as many as you need to create the size stall you need.
In the picture below we did 3 pallets long and one pallet wide. This creates a 10 foot by 40 inch wide stall.
Related Reading: 6 Pallet Projects for Your Goat Yard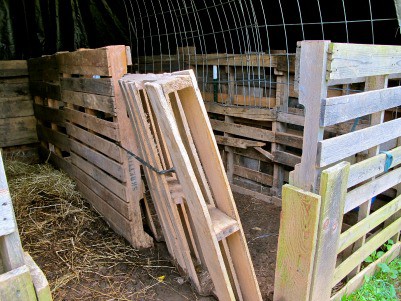 5. The Pallet Tool Organizer
Gardeners have a lot of tools that can take up a lot of space. A pallet secured to a wall can hold all those long handled shovels, hoes, and rakes. They will be out of the way and all in one spot.
You can also attach small hooks to the front of the pallet to hold smaller tools and gloves.
How's that for an easy wood pallet project?
6. A Pallet Garden Trellis
Many pallets have slats that are very far apart and make a wonderful place to grow vining fruits and vegetables.
Lovely Greens has a great trellis made from pallets (pictured below) or you can screw 2 pallets together in an A shape to create a 2 sided pallet trellis.
Not all pallets are created equal- if you are going to use a pallet in the garden you might want to search out one made from untreated wood.
Related Reading: 5 Easy DIY Cucumber Trellis Ideas
Do you use pallets around your home and garden? I would love to hear about any other DIY projects you have used whole pallets with!
If you enjoyed this post check out How to Make a Quick Pallet Shelter and How to Make a Pallet Barn!
Save